Request Your Free Post Construction Cleaning Quote Now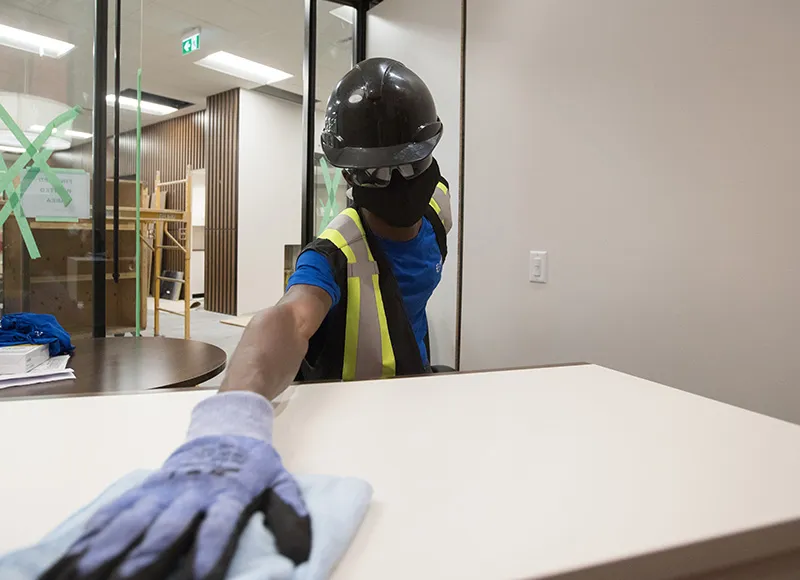 Post Construction Cleaning Services
We Specialize In post construction cleaning and post renovation clean up across Winnipeg. We provide a thorough and detailed cleanup that is required after construction has been completed.
Our trained cleaning staff will ensure your new building, home, or condo will be in immaculate condition after construction.
Post Construction Cleaning Requires Detail And Care
Let's face it, you're an expert builder – not an expert cleaner. Post Construction Cleaning is more than removing leftover drywall and sweeping up some saw dust. You put a lot of time, effort and care into your building project, so why not allow the same for cleaning once construction is complete?
At eshine, we pay extra special attention to the smallest details ensuring both precision and safety for your construction or renovation cleanup.
We Approach Cleaning With Precision In Mind
Our staff is fully trained and prepared to follow strict cleaning processes and are meticulous in their approach to cleaning up your project site. We can guarantee that your customer is completely satisfied. Their new office, addition, home or condo will be in immaculate condition and move in ready.
Here Are 5 Benefits Of Hiring A Post Construction Cleaning Company
Just like the building process, the process of cleaning up after a construction job requires a high degree of professionalism. Your crew has worked long and hard to complete your project, but for a post construction cleaning company, the job is just starting. This means, they will not be rushing to get the job over with. They will approach the job with fresh eyes and leave your building in sparkling condition.
Professional grade cleaning requires professional grade cleaning supplies. These are high-quality products that will leave your building looking immaculate from top to bottom. A professional cleaning company is also aware of what products to use for different surfaces, ensuring there is not damage left.
Your time is money. The time it takes you to clean your project the right way cannot be compared to that of a company with years' of experience. Not only that, but a cleaning company would provide the appropriate tools and chemicals, meaning you wouldn't have to spend the time shopping for them.
Understanding the details and specific requirements of a post construction clean up is just as much a part of our job as the clean up itself. We'll make it look pretty and do it the right way.
There are many different materials that are used during the process of construction. Some of these materials become airborne and have the potential to create a respiratory hazard to those that are exposed to it. Proper cleaning and removal of such hazards is part of our process.
Our janitorial service staff work relentlessly to ensure that all services are performed with precision and care while holding up to the highest industry standards. We consistently deliver above-expected results that you and your guests will appreciate no matter the occasion.
Every business has its own set of needs and cleaning requirements. When you contact Eshine, we perform our due diligence to determine your unique circumstances and provide you with a customized cleaning solution. We will develop a professional cleaning service plan that fits your schedule, budget and overall best interest. If your business requires daily, weekly, or monthly cleaning, you can count on eshine Cleaning Services for unbeatable results.
Eshine has demonstrated a commitment to thorough safety practices, which give us peace of mind during these tough times, that our office is being cleaned with the highest regard for everyone's health.
Eshine has been taking care of the office maintenance in my dental practice for the past two years. In the health industry, a clean and hygienic environment is of utmost importance. The eshine team have delivered consistently.
eshine's staff are always kind, prompt and thorough. We highly recommend their services!
Get in touch with us today