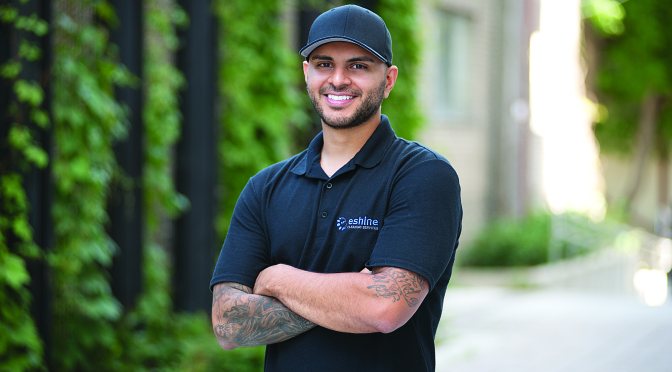 eShine cleans up in Winnipeg
You're out at the club with your friends, and having a good time. The music is good, the company is better and you're a little sad when the night ends and the music stops and you have to go home. You pile into a cab with some of your friends, and head off into the night, either for sleep or onto your next adventure.
Behind you, the club now sits empty, with the exception of everything left behind and the mess left to be cleaned. And trust me, it's a big mess.
That's where Elias Torres and eshine come in and start cleaning; working through the night while most people are busy sleeping.
Hard work and humble beginnings
Eshine got its start in 2012 when a cleaning opportunity presented itself to Elias and some of his friends. Elias stepped forward, and it began.
"I grabbed the vacuum cleaner from my parents' place and their cleaning supplies and just went from there."
"I was 24 years old when I started," said Elias. "I actually had a bunch of different jobs and wasn't sure what it was going to do. A buddy of mine had a business that needed cleaning. I stepped up and said 'I'll do it', because I needed the money at that time. So after having that one job done, I said 'well I have that one, maybe I can get another one' and it just kind of snowballed."
"I did it for at least a year by myself, and I used to wake up at two or three in the morning, then I'd go do my full-time job then going back in the evenings."
"When I started getting other clients, I decided that maybe it would be nice to do with someone else."
Elias hired his brother, his friends and his girlfriend (now fiancée).
"We were all just growing together. I'd get these contracts and I'd offer my friends 'hey, do you want extra money?'"
Elias and his work crew cater to their regular customers, as well as one-off contracts that come up, and the more work there is to do, the more eshine grows.
"My ultimate goal is to be able to franchise to other cities. Hopefully that's something I can do within the next ten years."
Outside influences
Elias cites Dylan Dufort of Picture Perfect Window Cleaning in Winnipeg as a mentor who has helped him as eshine has grown.
"When you're in the same industry, it helps to have someone who has that experience, and is willing to encourage you to go after the big contracts that you might have been hesitant to without that support. It's been awesome."
Online business guru Gary Vaynerchuk, better known online as Garyvee, has also provided a source of continued inspiration for Elias.
It Ain't Easy Being Clean
"Winnipeg can be a very dirty place in the winter time," said Elias. "Snow and sand on people's shoes and boots makes for a bigger mess, and it takes longer to do. Not everyone realizes just how big of a mess there is, or how big of a job it is to clean it."
Elias says that nightclubs are among the dirtiest places eshine cleans on a year-round basis, and that you find all sorts of things when the house lights come on.
"It's always nice when you find someone's phone and you're able to make their day by calling them and getting it back to them."
Providing Opportunity to New Canadians
When looking for new employees for eshine, Elias' first step is to go to the Immigrant Centre, which provides work opportunities for immigrants and refugees that are new to Canada.
"I'm Latino; that's my background. My parents were cleaners back in the day, that's how they started. When you go down to California you see these people doing these jobs that nobody else is doing. In Canada, a lot of them are doing the same thing. They just need the opportunity to work."
Elias hires people based on their proximity to contracted clients, so that they don't have to worry as much about transporting themselves to the workplace.
---
Source By: https://smartcareersdotnet.wordpress.com/2016/07/19/eshine-cleaning-services-winnipeg/
Author: SmartBiz