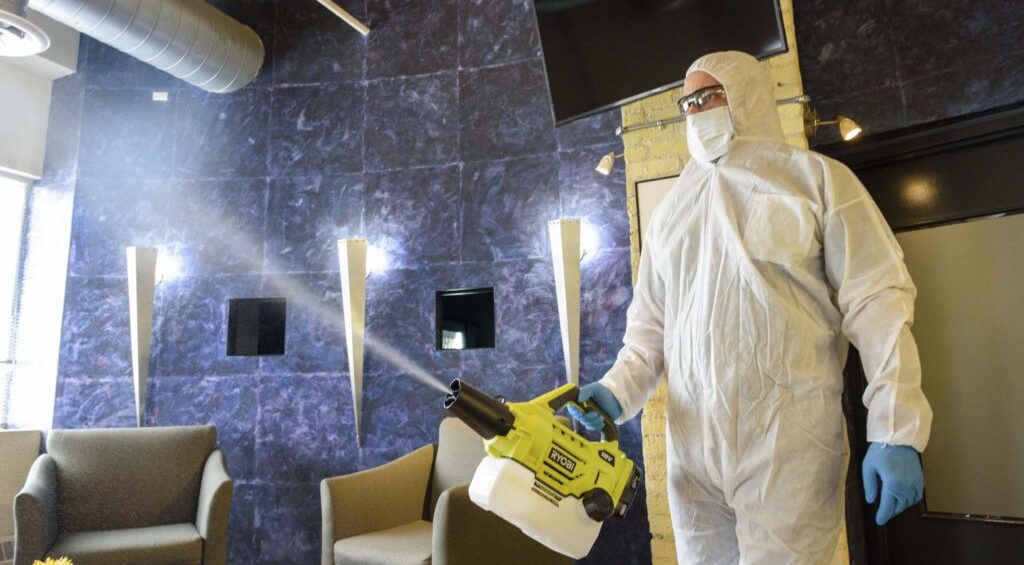 Cleaners Cleaning Up
A man in a white protective suit, a mask, goggles, latex gloves and blue booties walked into the downtown offices of Direct Focus Marketing Communications, Inc., on Thursday afternoon. Then, it got a little misty in there. Somewhere underneath the personal protective equipment was Mariano Velazco, a cleaner who started working four months ago for eShine, a locally owned company.
In his hands was an industrial fogger. He flipped a switch, and the machine began puffing a hospital-grade disinfectant called vital oxide into the air, coating the lobby's lounge chairs, carpet, walls, and even the front desk, which was already covered in an assortment of Lysol and rubber gloves. These days, even the sanitizer needs a good sanitization.
Employers such as Direct Focus, which has 80 employees in the city, are slowly seeing their offices transition from ghost-town to workplace after three months of working from home. Though much of its business can be done remotely, the company started inviting employees back to work for half a day each week on June 20, chief operations officer Kyla Gibson says. But it's not enough to extend an invitation. "When we sent a survey to our employees about a return to the office, the main concern, above all, was cleanliness," said Gibson.
Before the pandemic, the company had daily cleaning, but to make it worth employees' while to come back, they had to up their cleaning game.
"The survey showed that previous levels of cleaning wouldn't be sufficient," she said.
That's where Mariano Velazco and companies such as eShine come in. Founded in 2011 by Elias Torres, 33, eShine has had by far its busiest stretch in a decade over the last three months.
"It's been pretty much non-stop," said Torres. In March, the company invested in equipment such as foggers, which cost up to $1,500, and got COVID cleaning certifications from organizations such as the Global Biorisk Advisory Council. Dozens of new clients called, and eShine hired over 20 cleaners since March to keep up with demand.
Torres, whose parents worked as cleaners when they moved to Canada from Nicaragua in the 1980s, says cleaning used to be seen by many companies as a necessity, but not necessarily an investment. Often, businesses sought cheap quotes and didn't ask many questions about the services they were getting as long as the trash was taken out and the toilets were scrubbed.
"Before the pandemic hit, a lot of companies were very frugal with what they'd spend on cleaning," said Scott Dunsire, owner of Bison Janitorial Ltd. "Since March, they have to be more conscious. If an office used to get cleaned once a week, they've probably doubled or tripled that."
In the three months of COVID shutdown, Bison has brought in 34 new clients (it's also lost seven due to closures) and a significant portion of its 300 existing ones have switched to more extensive cleaning plans. Some offices are spending as much as $30,000 more than they used to on cleaning and supplies each month, Dunsire said.
The financial implications of the pandemic on the cleaning industry are huge: ResearchAndMarkets.com forecasts that the global industrial and institutional cleaning products market will grow by an estimated US $16 billion by 2027. However, Clean Canada, the magazine of ISSA Canada (an sanitation trade organization) says while companies are eager to invest now, that could change if remote work becomes the norm and office leases lapse.
Cleaning is playing a major role in when and if employees feel comfortable at work, and if employers drop the ball, it could have long-lasting effects on employee satisfaction, retention, and hiring. As many workers realize working from home is not only possible, but efficient, expectations are high for how employers make the workplace feel safe.
"Nobody budgeted for this," Dunsire said. "But staff want to know, 'What are you doing to protect me?' They're coming out of a cocoon, going to the office, and they're afraid. They want to know what their employer is doing to keep them safe."
"Staff want to know, 'What are you doing to protect me?' They're coming out of a cocoon, going to the office, and they're afraid. They want to know what their employer is doing to keep them safe."
–Scott Dunsire, owner of Bison Janitorial Ltd.
A survey from recruiter Robert Half Canada Inc. found 73 per cent of Canadian employees expected their workplace to implement better cleaning protocols. If companies fall short, they risk not only their employees health, but their company's. Torres and Dunsire say it's normally a tough sell to get businesses to commit to extensive cleaning protocols. Lately, firms are seeking it out unsolicited.
Bison sends at least 10 cleaners a day to diligently disinfect some large offices and warehouse facilities. eShine Cleaners such as Velazco have been working around the clock cleaning touchpoints such as doorknobs and countertops. The daily job has become an all-day job. It might feel like overkill, but companies big and small see it as a worthwhile investment. Canada Life, one of the city's largest employers, currently has 95 per cent of its staff of 3,300 working remotely, says Cathy Weaver, the company's senior vice-president of human resources.
Even with tentative plans to have only 25 per cent, or 825 staff, back in the office by October, the company is upping its sanitation efforts significantly. Prior to the pandemic, professional cleaning of each workspace was only done weekly. As staff return, it will be done daily.
At Direct Focus, eShine's contract as daily cleaners takes effect in July, when workers could come in as often as twice weekly. The company has also spent "in the tens of thousands" of dollars buying PPE and sanitizing products for personal use by the employees, says Gibson — all part of the cost of doing business.
Of course, Canada Life and Direct Focus have the benefit of doing work that can be done remotely: restaurants, bars, or dental offices, among other businesses, don't. Some hire professionals, while others are taking on cleaning themselves, said Dunsire. One thing's for sure: everyone is thinking about cleanliness and strategizing for the future.
"The world has changed," says Gibson, who only joined Direct Focus in February. "And this has to continue being a priority."
The new world is a stressful and busy one for cleaners, says Velazco, who didn't expect when he was hired in February to be interviewed while wearing a white protective suit and bright blue booties, or to be working in such a risk-filled time. "It's the new normal," he said of the added precaution and busy schedule. "We're happy to do it."
Source By: https://www.winnipegfreepress.com/business/cleaners-cleaning-up-571509612.html
Author Name: Ben Waldman
Email: ben.waldman@freepress.mb.ca