Contact Us
Get A Free Estimate Today!
Your Post Construction
Cleaning Experts In Calgary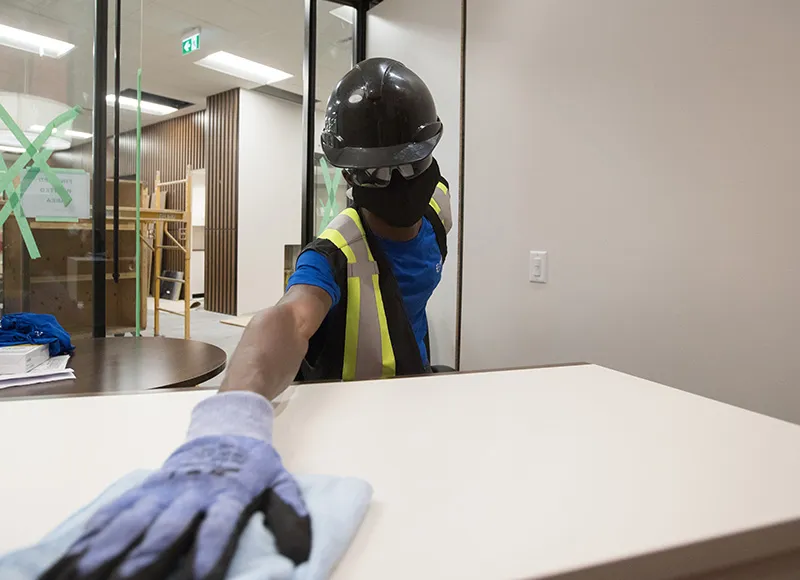 Post Construction Cleaning in Calgary: Your Reliable Partner – Eshine Cleaning Services
Welcome to Eshine Cleaning Services, your leading choice for professional post construction cleaning in Calgary. Established in 2012, we have carved a niche for ourselves in the cleaning industry with our top-notch services, consistently meeting and exceeding customer expectations.
At Eshine Cleaning Services, we understand the importance of a clean, safe, and healthy environment after any construction project. That's why we offer comprehensive post construction cleaning services in Calgary and across Canada. With our experience spanning over a decade, we have the expertise and capabilities to handle jobs of all sizes, ensuring that your newly constructed or renovated space is spotless, sanitary, and ready for occupancy.
Our Post Construction Cleaning Services in Calgary
Our post construction cleaning services in Calgary are comprehensive and tailored to meet the unique needs of each client. We cover all areas of your property, including but not limited to kitchens, bathrooms, living areas, offices, and outdoor spaces.
We remove all types of construction debris, dust, and dirt, clean windows and surfaces, sanitize bathrooms and kitchens, vacuum carpets, mop floors, and much more. Our goal is to transform your construction site into a clean, inviting space ready for immediate use.
Contact Eshine Cleaning Services Today
If you're looking for reliable, efficient, and thorough post construction cleaning in Calgary, look no further than Eshine Cleaning Services. Contact us today to discuss your needs and learn how we can help you enjoy a clean, safe, and healthy environment after your construction project. Let us put our experience and expertise to work for you, delivering the high-quality cleaning services you deserve.
Why Choose Us for Post Construction Cleaning in Calgary?
There are numerous reasons why Eshine Cleaning Services stands out as the preferred choice for post construction cleaning in Calgary. Our commitment to quality, attention to detail, and excellent customer service sets us apart from the competition.
We use the latest cleaning equipment and products to ensure a thorough and efficient cleaning process. Our team comprises highly trained professionals who are well-versed in handling different types of construction debris and waste, ensuring your property is meticulously cleaned and sanitized.
Eshine has demonstrated a commitment to thorough safety practices, which give us peace of mind during these tough times, that our office is being cleaned with the highest regard for everyone's health.
Eshine has been taking care of the office maintenance in my dental practice for the past two years. In the health industry, a clean and hygienic environment is of utmost importance. The eshine team have delivered consistently.
eshine's staff are always kind, prompt and thorough. We highly recommend their services!